University of Gdańsk is one of 49 research-centered institutions in Poland which have already hosted POLONEZ Fellows. Prof. Józef Liwo, the head of the Laboratory of Molecular Modelling at the Faculty of Chemistry, told us about his cooperation with dr Sergei Samsonov during his 2-year MSCA POLONEZ fellowship "Computational approaches to study protein-glycosaminoglycan interactions".
Where did the idea to invite Dr Samsonov to Gdańsk come from in the first place?
The initiative to come to Gdańsk was his; he asked me if I would agree to be his supervisor in the POLONEZ grant he was applying for at the time and whether I would accept him into my research team. But I had met him earlier than that, back in 2014, during a conference entitled From Computational Biology to System Biology 2014 (CBSB2014), which I organised in Gdańsk together with Prof. Ulrich Hansmann (now working at the University of Oklahoma). Based on his outstanding abstract, Sergei was selected to present his paper as an invited speaker and he won an Outstanding Early Stage Researcher Award.
Your research interests are a bit different. What is your cooperation like?
The difference in the scope of our research is a matter of quantity rather than quality: Sergei looks for solutions to specific biological problems, while I focus on developing the methodology. Our research interests also overlap to a large extent because we both deal with molecular modelling. Also, despite our slightly different backgrounds (Sergei is a physicist, while I'm a chemist), we both put a great deal of emphasis on explaining the physics of the phenomena we study rather than just their possible applications.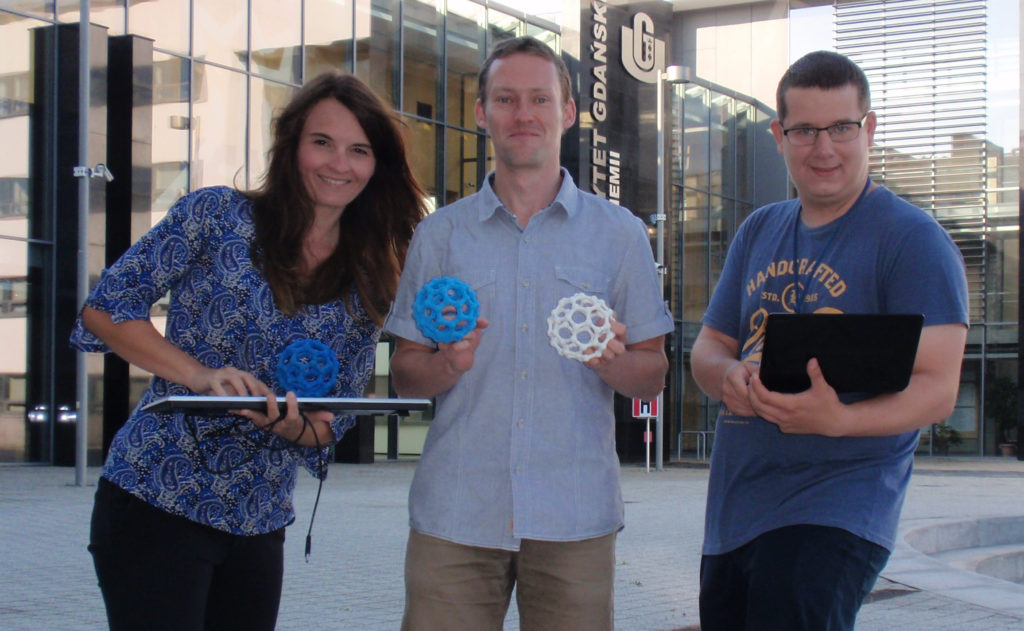 How did the presence of a foreign researcher change the daily work in your Laboratory of Molecular Modelling?
The scope of the lab expanded to include a new research area: interactions between proteins and glycosaminoglycans. These interactions are of key importance to processes that occur in the extracellular matrix, especially the processes of regeneration. In addition, Sergei has a real flair for scientific networking and cooperation. This means that apart from his own team, which consisted of Dr Urszula Uciechowska and Krzysztof Bojarski, MSc, his research work involved practically everyone in my lab, as well as the staff employed at the Laboratory of the Simulation of Polymers, headed by Prof. Cezary Czaplewski. Thanks to Sergei's contacts with groups in Germany, France and Hungary, we received visits from early stage researchers and senior researchers from foreign centres, who delivered seminars and conducted research in our lab. Our cooperation also had a more tangible product, i.e. publications, which contributed to the scientific record of the lab. The greatest proof of our mutual benefits, and the high quality of work done by Sergei, is his decision to stay in Poland and continue to work with my team for the next 5 years. Sergei also won a SONATA grant awarded by the NCN.
What were the greatest challenges of welcoming a new member of staff?
Administrative and financial matters, which in Poland are traditionally the responsibility of the principal investigator and which usually require a lot of time. We received a lot of support from the university administration, but even so it was a challenge, mainly because it was Sergei's first independent grant and he had to learn how to manage it from scratch. A good solution would probably be to follow the American model, where the financial reports are the responsibility of the host institution's grant office. But this is a general remark, not one that only applies to POLONEZ projects1.
And what do you think are the strongest assets of the POLONEZ programme?
The greatest advantage is that we can attract motivated foreign researchers, which helps internationalizing Polish science and, in particular, it allows young Polish researchers and PhD students to enjoy greater access to global science. If we have an appropriate candidate we will definitely participate in POLONEZ BIS. But it may prove very difficult to find anyone as talented as Sergei Samsonov.
Prof. dr hab. Józef Adam Liwo, Laboratory of Molecular Modelling, Department of Theoretical Chemistry, Faculty of Chemistry, University of Gdańsk
Prof. Liwo's field of research is molecular modelling. He has worked at the University of Gdańsk since 1983. He won an individual award of the Ministry of Science and Higher Education in 1998 and, in 2013, a Mistrz/Master grant awarded by the Foundation for Polish Science. His academic and research track record includes ca. 300 scientific publications, which have been cited more than 5000 times. In his free time, he enjoys learning foreign languages, such as Korean or Mandarin Chinese.
1In POLONEZ BIS, to be launched in 2021, a portion of project's overheads will be set aside for the host institutions to hire a part time administrative assistant to help each Fellow adjust to a new research environment.